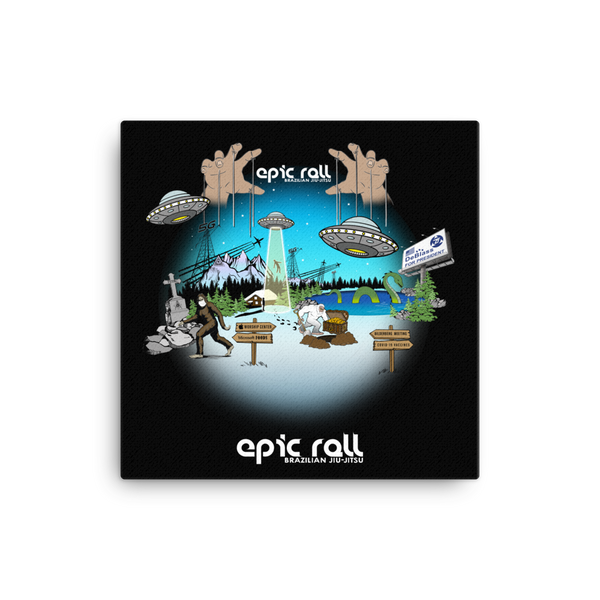 Epic Art - THE URBAN LEGEND CONSPIRACY THEORY!
Looking to add a little BJJ flair to your home, office, or dojo? Look no further our new Epic Art collection is officially here. This canvas print has a vivid, fade-resistant print that will stay looking amazing for years to come!
Epic Roll and BJJ Phenom, Tom DeBlass have teamed up to create this hilarious, one-of-a-kind design! The design is meant to be a light-hearted homage to some of our more popular urban legends and conspiracy theories. There is a lot going on in the design, so take your time and make sure you find all the little hidden gems! Now, it's time for a quick history lesson.
The term "conspiracy theory" was allegedly created by the CIA back in 1967 to disqualify those who questioned the official version of John F Kennedy's assassination and doubted that his killer, Lee Harvey Oswald, had acted alone. The term "urban legend," as used by folklorists, has appeared in print since at least 1968. Jan Harold Brunvand, professor of English at the University of Utah, introduced the term to the general public in a series of popular books published beginning in 1981. Brunvand used his collection of legends, The Vanishing Hitchhiker: American Urban Legends & Their Meanings. Now that we got the history lesson out of the way, it's time to get back to the shirt. Our Urban Legend Conspiracy Theory shirt is sure to turn heads and provoke conversations! From Bigfoot to Chemtrails, D.B. Cooper's money to the Loch Ness Monster. We may not all agree on the validity of these urban legends and conspiracy theories, but there is one thing that I know we all can agree on...... DeBlass 4 President! OSS,
• Fade-resistant
• 20.5 mil-thick poly-cotton blend canvas
• Hand-stretched over solid wood stretcher bars
• Matte finish coating
Size guide
| | | |
| --- | --- | --- |
|   | 12×12 | 16×16 |
| Height (inches) | 12 | 16 |
| Width (inches) | 12 | 16 |