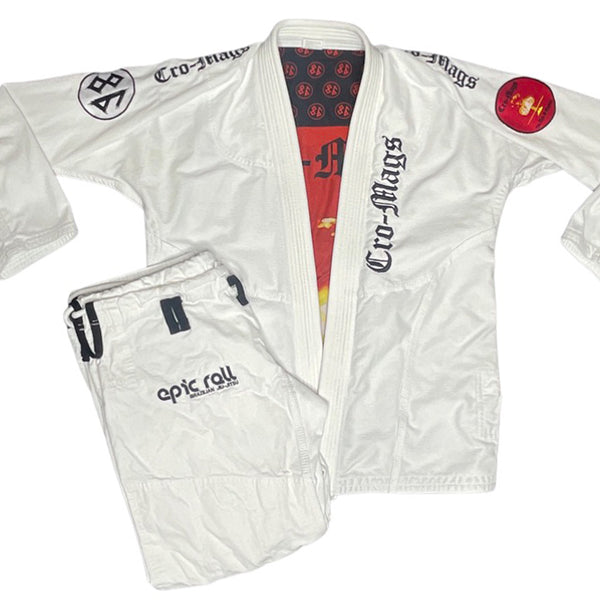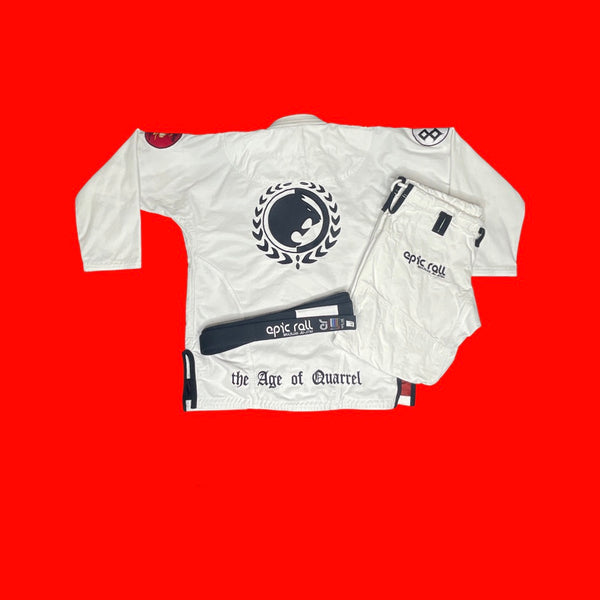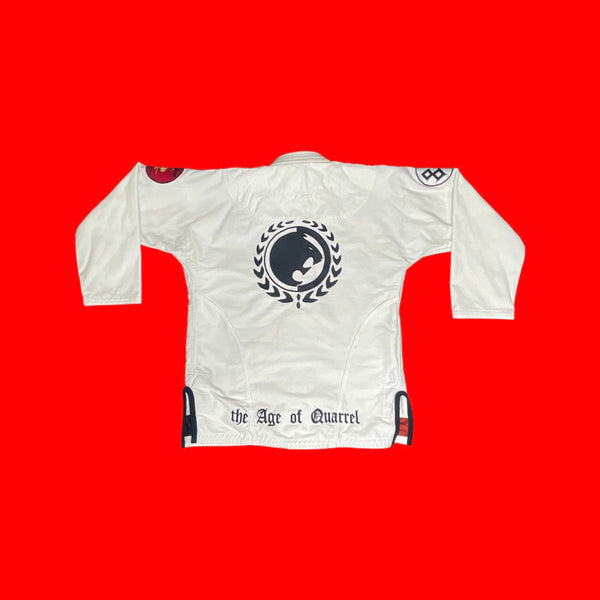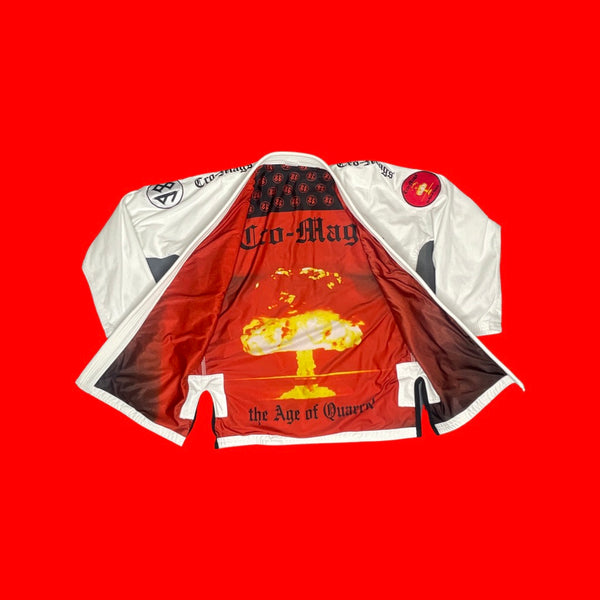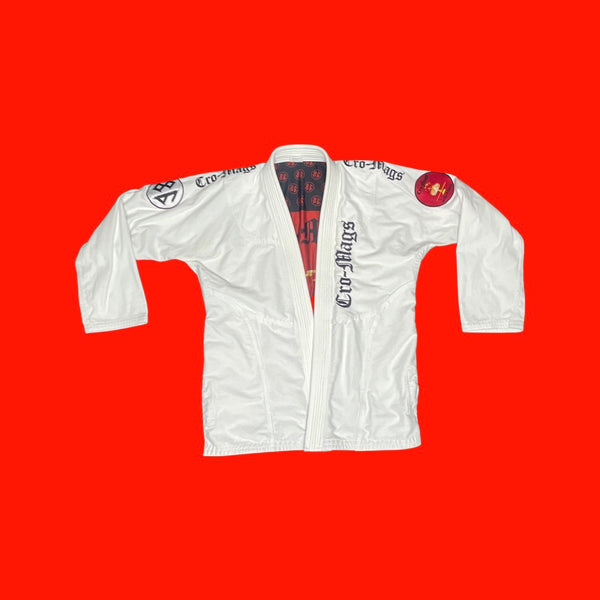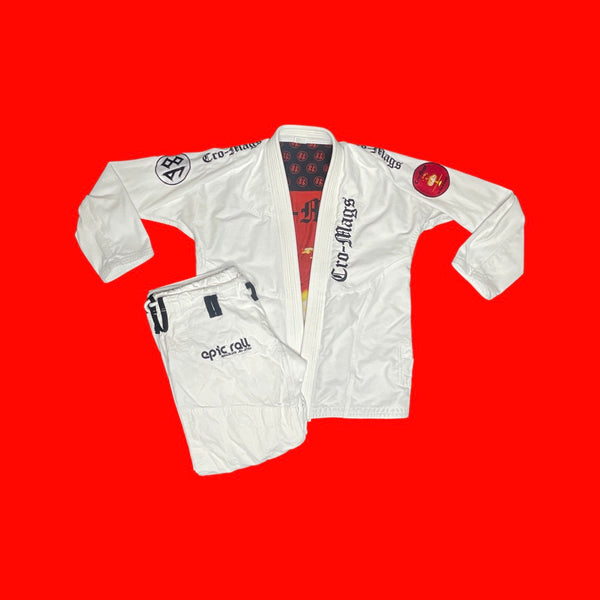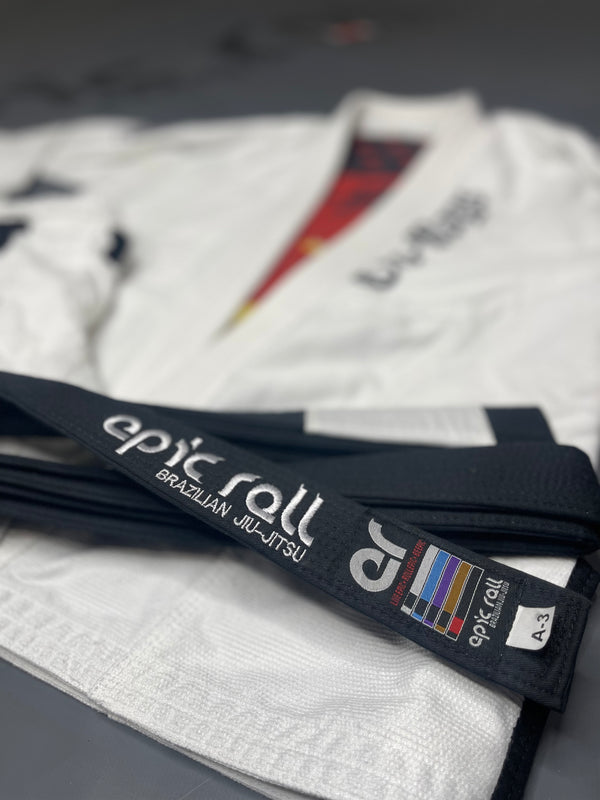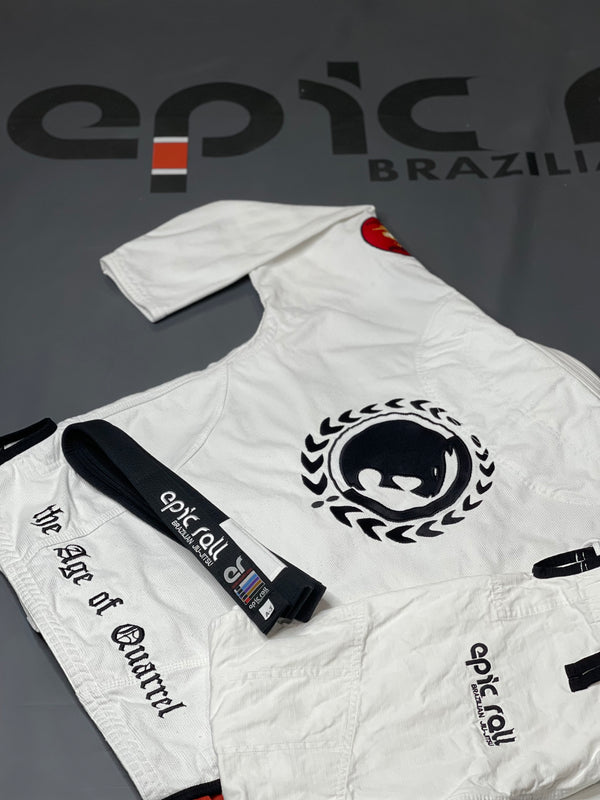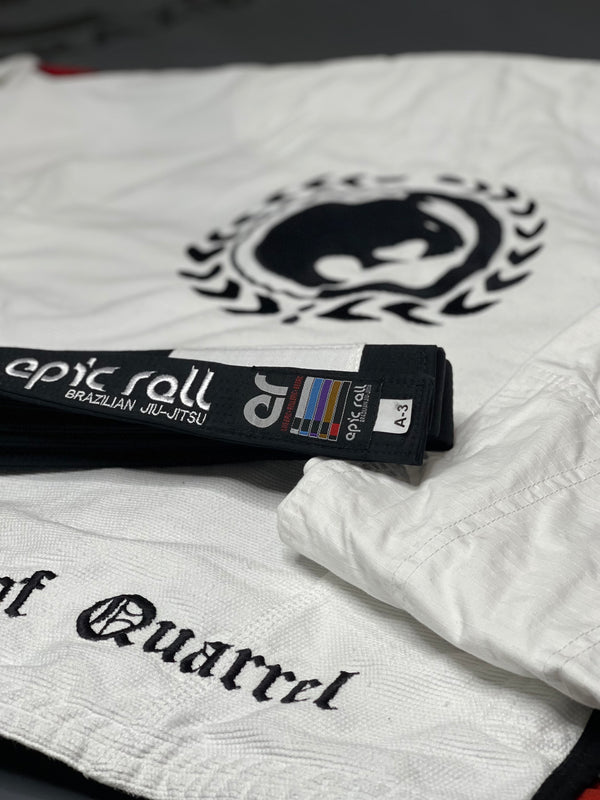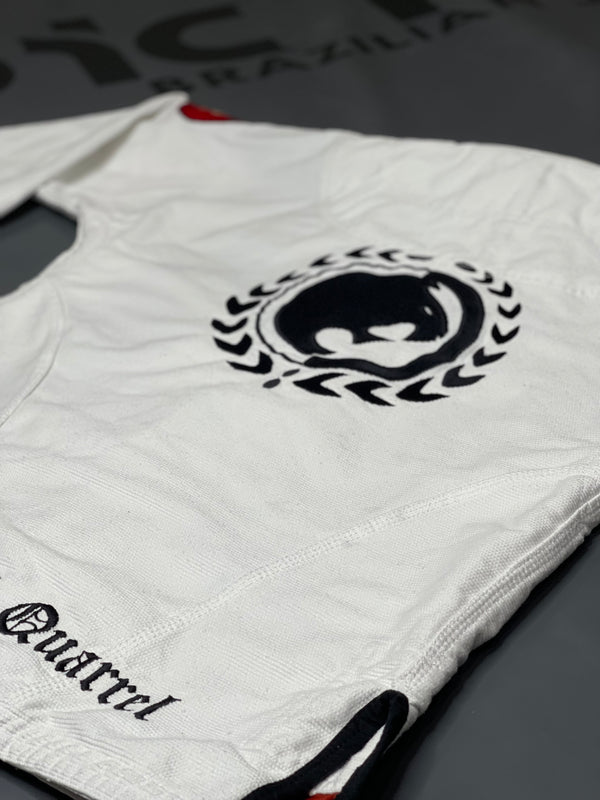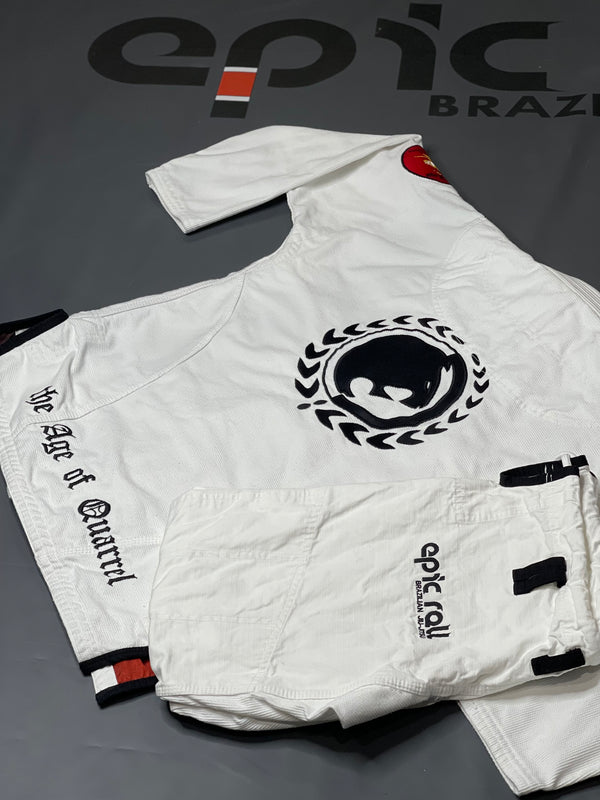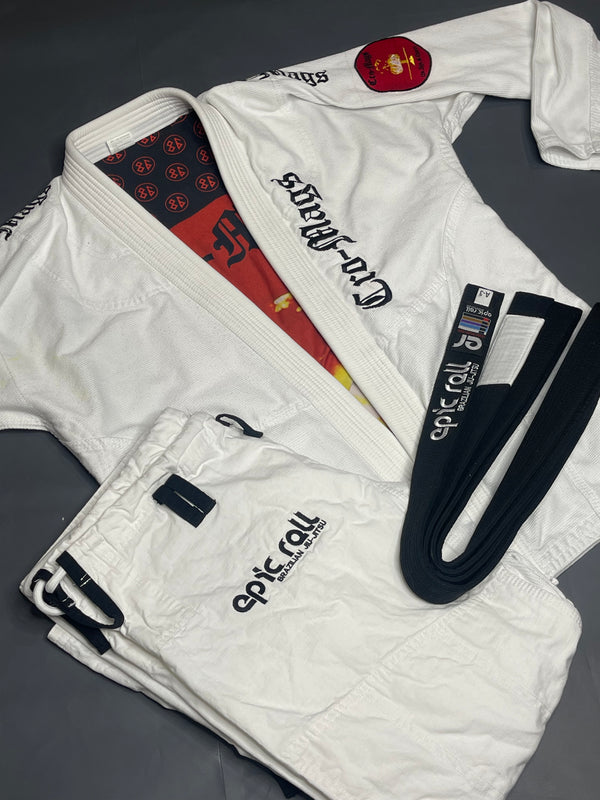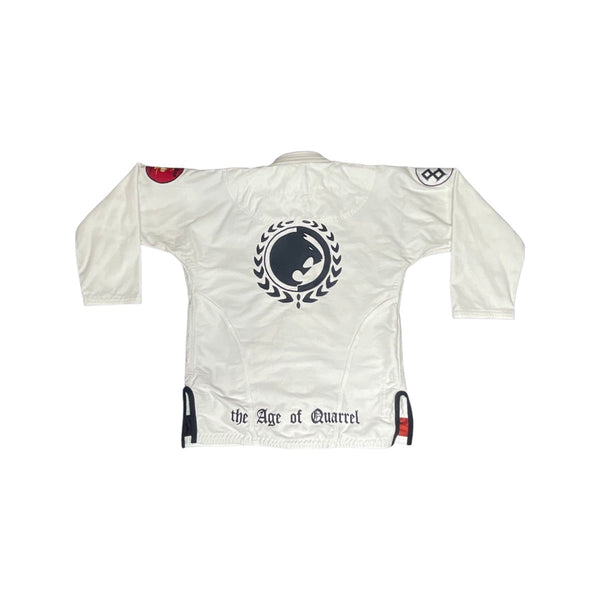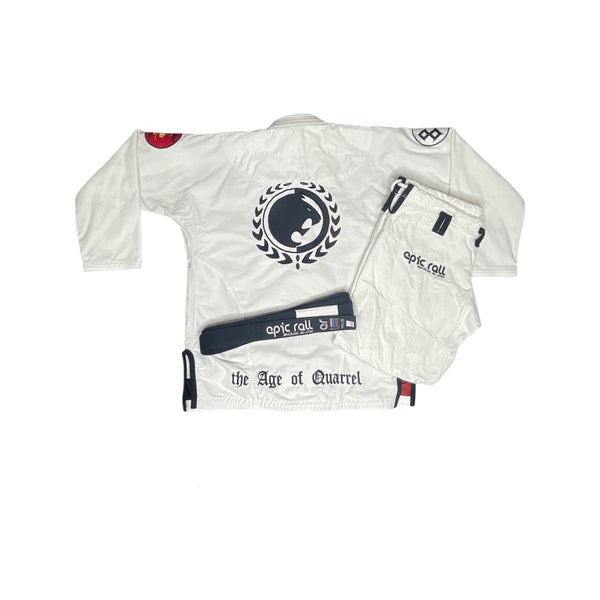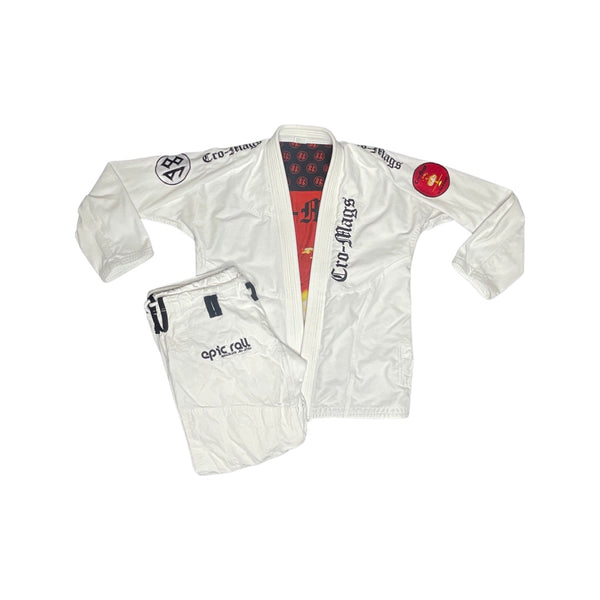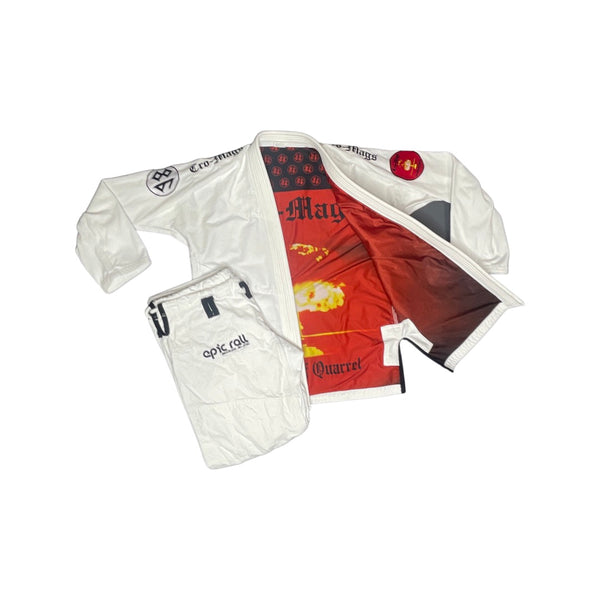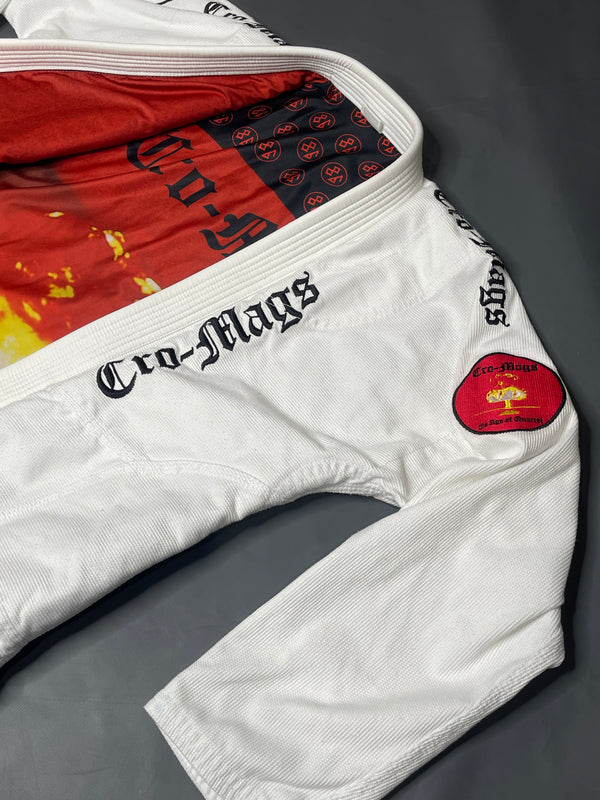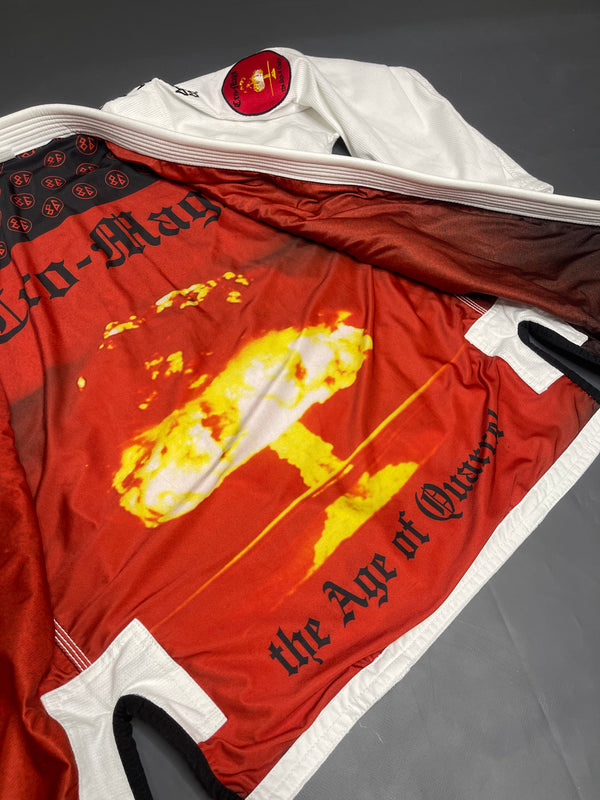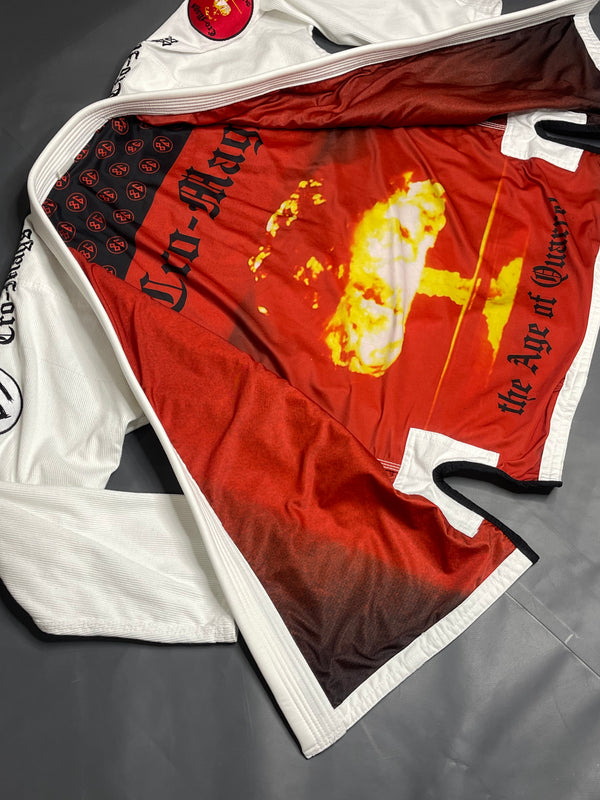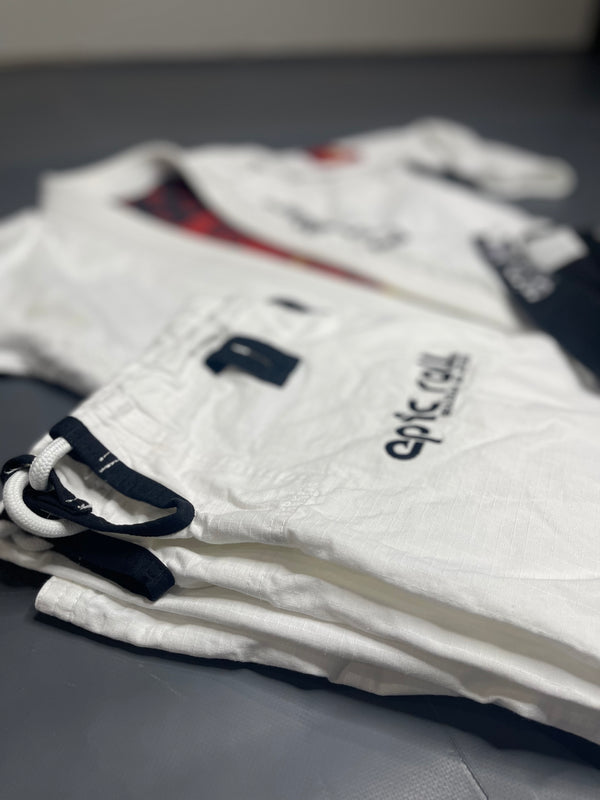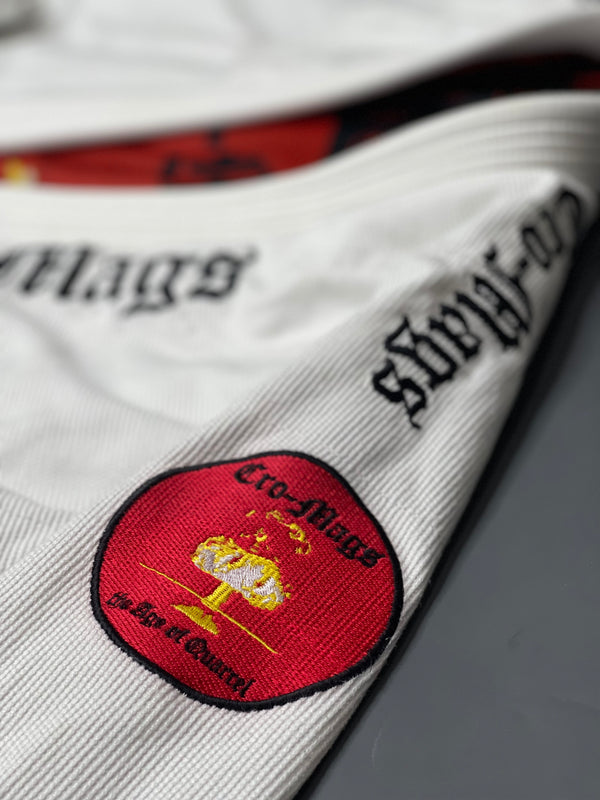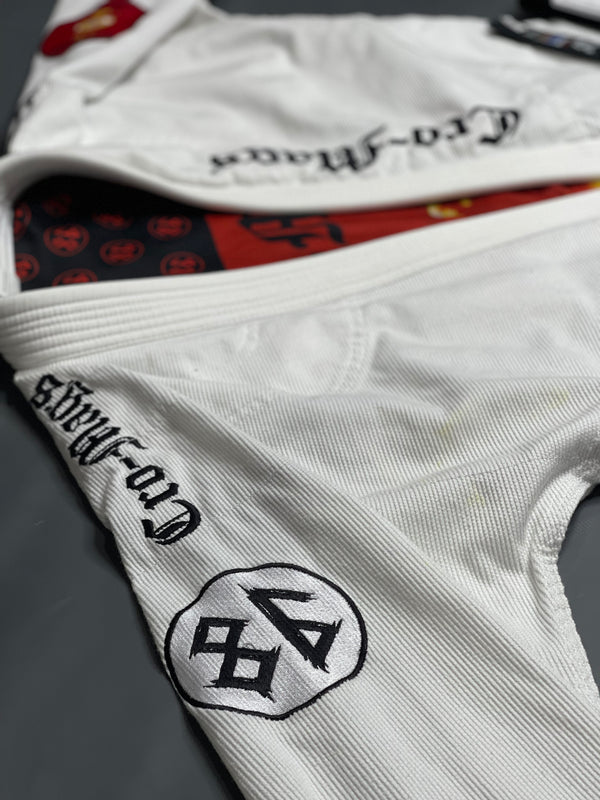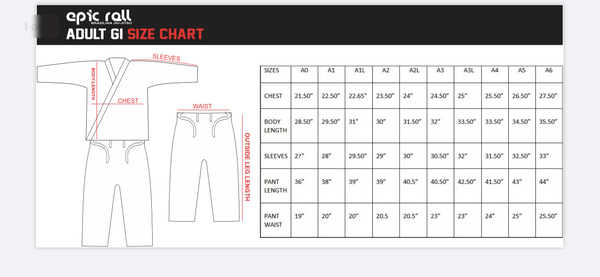 Cro-Mags (Age of Quarrel) Gi (WHITE EDITION)
There was an overwhelming number of requests for a white version of our AOQ Gi since a lot of academies only permit white Gis. So... You requested, We delivered. Cro-Mags Limited edition AOQ 35 year anniversary Gi WHITE EDITION.
And for those who wanted the original black Gi and missed their opportunity, you now get a second bite of the apple.
For two weeks only!!! Pre-sales on the White and the Black is BACK!
Get yours before it's too late!!!
The much-anticipated Cro-Mags, 35 Year Anniversary Tribute Gi is officially here. This lightweight and sturdy Gi will make the perfect addition to anyone's jiu jitsu wardrobe. Help celebrate the legendary Cro-Mags inaugural album "age of Quarrel."

First released in 1986, "age of Quarrell" quickly became an iconic and highly influential album. Meant to pay homage to the album, the Gi features an inside rashguard with the album cover depicting the Castle Romeo H-bomb test - which was detonated on March 26, 1954, at Bikini Atoll of the Marshall Islands.
For overseas orders please include $50 for shipping. *Save money on shipping by buying more stuff!!!!
(PLEASE NOTE)
*All pre-order sales will be processed and submitted to our manufacture for production on Dec 3rd 2021 
*Please allow 4 - 6 weeks from the processing date for delivery. 

A % of the proceeds will be going to Tapcancerout.org

Cro-Mags and Epic Roll would like to thank you so much for your support. 
Make sure to TAG us in your social media posts! Use #cromagsfightgear #epicrollbjj 
• What is included:
• Age of Quarrel Gi, & Gi Bag for convenience.
• Colors: White & Black. 
 Gi Jacket:
1. 350 GSM pearl weave.
2. Rounded and reinforced slits.
3. Smooth EVA foam collar for excellent choke resistance.
4. Breathable fabric that was built to be durable, comfortable.
5. Reinforced in the collar, shoulder, sleeves, and knees for added strength and increased durability.
6. Custom embroidered stitching.
Gi Pants:
1. 100% cotton ripstop pants with reinforced seams on the legs and ankles.
2. Fast and reliable rope tightening system.
3. Six belts loops for support.
4. Custom embroidered stitching.
Gi Bag: 
Lightweight Gi bag that can be worn as a backpack with drawstring closure at top.
1. Drawstring closure.
2. Bag is made of Cordura 600D Fabric.
3. Lightweight Gi Bag
4. 100% Cotton Drawstring
Care:
Wash Cold and Hang Dry.
Wash Separately.
Wash rashguard inside out to help prevent fading.
No Bleach.
No Tumble Dry.
*Please note that if you plan on washing in hot water or machine-drying the Gis can shrink between 2" and 4" inches in length, if you wash it cold and hang dry it can shrink up to 1."